Co-organised with Université de Liège (ULiège), the annual international 2-day conferences "Green Chemistry – White Biotechnology" will be held next 28 and 29 September in Liège, Belgium. In 2022, the focus will be on:
Digital Transformation:
Innovation Booster for Green Chemistry and White Biotechs
Sébastien Preys, from Ondalys, is invited at this conference to speak about :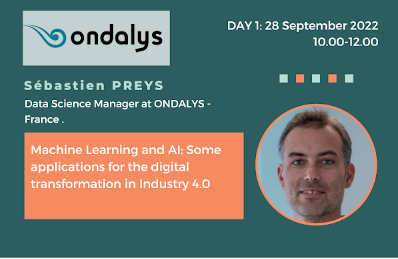 He will present 2 specific applications using Machine Learning (ML) and Artificial Intelligence (AI) for Green Chemistry and White Biotechs customers:
Proof of Concept using handheld NIR (Near Infrared) instruments for raw material quality control in winemaking, by measuring pectin content in an enzymatic process
Implementation of several ML predictive models aiming at real-time in-process control for a polymer Green Chemistry process.
Indeed, Ondalys team is expert in Chemometrics – Data analysis – and Machine Learning for Green Chemistry and White Biotechjs fields.
This conference aims to screen the digital technology used to boost activities in the fields of green chemistry and white biotechnology around the world, share knowledge and encourage the creation of new R&D projects.
Have a look to our services dedicated to Industry 4.0.